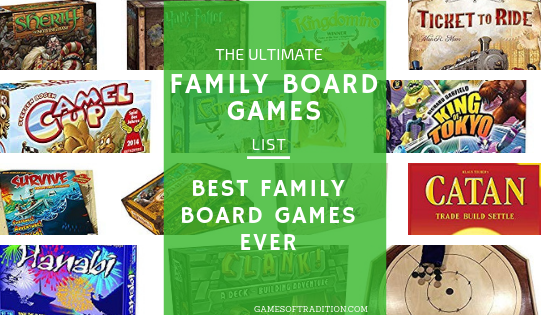 Best Family Board Games to Buy in 2021
There is nothing better than spending good time with your loved ones around a table playing a great family board game. We all agree that all families had quite difficult time lately with the current pandemic. Finding a good family board game can be a way to bring everyone together at least for a few hours. Family board games can help us escape and think about something else by spending some good time together.
The challenge is to be able to find the right family board game that can be played by young kids but also truly enjoyed by adults. I want to share with you my ultimate family board games list. In this post, you will find fun family board games for all ages, great and fun family board games to play at home.
Guys, do you want to play Monopoly?
Of course a family board games can be played all year long, but Christmas is one of those rare magical moments where the whole family have fun and spend real quality time together. Christmas is also an ideal time to take out those board games that are gathering dust at the top of the shelf: Monopoly, Scrabble, and Trivial Pursuit to name a few.
But wait: after the excitement you felt at the idea of playing a board game, you soon realize that no one really want to play those board games anymore, everyone prefer watching Indiana Jones or Home alone on TV while digesting the Turkey.
Don't get me wrong here, I love Indiana Jones and Home alone, but I think playing board games on Christmas Day should remain a tradition.
Maybe it is just time to renew your board game collection and introduce a new type of family board games to your love ones. Here I will try to give you some advice about choosing the best family board games ever. Time to surprise your family with some of those most popular family board games!
What is a good Family Board game?
By family board game I mean board game that can be played by the whole family , kids from 7 or 8, teenagers and of course parents and grandparents. A good family board game is a game that can be played by everyone together.
The criteria I choose for this family board games list are the following:
The game must be easy to learn or teach
The game must be fun to play
The game can be play by 4-5 players or more.
The game must have a good replay-ability
On this selection of family board games, you will find new games released in 2017 but also older classic board games that I think you should try, and even a traditional game that is almost 150 years old. So let's find some great christmas family board games.
No more delays, let's see my best family board games list.
Just one
I  couldn't start this list of best family Board Games to Buy in 2019 with the Spiel of Jarhes 2019 winner. Just one, (yes, this is how the game is called) from the publisher Repos Production,  is a 3 to 7 players cooperative party game where every players have to write one word to get one player to guess their own one word!
At the beginning of the game, each player get an easel.One active player takes 1 card with 5 different words written on it from a deck of 13 cards and place it on their easel so that they can't see any of those 5 words. But all the other players can see the 5 words.Then the active player randomly chooses a number from 1 to 5 that correspond to one of those words on the card.So for example if the active player chooses number 3, they other players will see that number 3 correspond to the word "chocolate" for instance.
All they other player secretly write a clue word on their easel  and will try to make the active player guess the word "chocolate". They could write the word "white", "milk", or "dark" or "Belgium" for instance and then compare them (the active player that need to guess the word close his eyes). Any duplicate clues are removed so the active player won't see them.Show the remaining easels to the player so that they can guess the Mystery Word! If the player guess right, he gets 1 point, if he is unsure he can pass but will lose 1 point. If the player guess wrong, he will lose 1 point AND 1 card from his deck of 13 cards. Then it is the turn to the next player to be the active player and guess the next word.
For me, "Just one" has become a big hit in my family, and could see it become one of my favorite family party game this year. It is easy to learn, you can literally explain it in one minute and start playing. I love the rules of the duplicate clues removed and the choice that has the guesser to pass and loose 1 point or to answer and risk to loose 1 point and a card from their deck if they answer wrong. Just one is a great cooperative party game. It is easy, it is fun and has those interesting twits that make this family board game so good.
back to menu ↑
Azul
Released in 2017 and designed by Michael Riesling, Azul is an abstract board game that has received an immense success in in 2018. It won the prestigious Spiel des Jahres Award  in 2018 (game of the year).

Abstract games convey, often wrongly, a slightly uncool and dated image, but you can be certain that it is not the case with Azul. Azul is a great family board game, modern and accessible to everyone.

back to menu ↑
Kingdomino
Winner of the  Spiel des Jahres award in 2017,  Kingdomino also deserves to feature on this list of best family board games.

Dominoes with a Kingdom building twist! Each turn, connect a new domino to your existing Kingdom, making sure at least one of its sides connects to a matching terrain Type already in play. The game mechanics for obtaining the tiles is clever: the order who of who picks first depends on which tile was previously chosen. Make sure to secure tiles with crowns- these royal treasures help to multiply the worth of your Kingdom at the end of the game! the game ends when each player has completed a 5 x 5 grid, and then points are counted based on number of connecting tiles and crowns.
Kingdomino is a family strategy  board game for ages 8 and up. It plays 2 to 4 players.Kingdomino is a short game, each turns are quick , they take 15 to 20 minutes to play.Kingdomino is a fun and colorful game to play and have enough strategy in it to please everyone. I like the phase where you count your points at the end of the game, really good for your kids to practice their Maths skills without noticing it. It really ticks all the boxes with regards to best family board game.
Kingdomino is really the perfect family board game to take out on Christmas day to surprise your family. It will have to be at the top of my best family board games list.

back to menu ↑
Crokinole
Crokinole is traditional board game that was first made by craftsman Eckhardt Wettlaufer in Canada in 1876. Crokinole is a dexterity type of family board game for 2 players or 4 players playing in teams of two.
The game consists of a 65 to 80 cm in diameter board, depending of the model, 3 concentric rings and a shallow hole in the middle (target hole). On the inner circle, there are 8 small bumpers or pegs which make it difficult to place your discs inside the inner circle. When playing 2 players, the opponents face each other, but when playing with 4 players, teammate are siting opposite to each other.
The principle of Crokinole consists in placing your discs as close as possible to the center (higher-scoring regions of the board), and if possible, in the target hole. To do that, players use their fingers to flick their discs. The player that score the most point win.
It might sound easy, but there is a catch! The funny part is that players must touch the other team disc when shooting. If your disc doesn't touch in anyway your opponent disc when you shoot, then your disc must be removed from the board and placed in the ditch (outer part of the board).
Crokinole is a great family board game, a great traditional board game that deserve to be known and played by a larger amount of people. I like the fact that you can play in team. It brings a lot of fun and excitation when I play Crokinole with my family.
Also, some luxury Crokinole boards out there are absolutely sublime, they look like real pieces of art. For those who want to combine esthetic and fun! Definitely of the best family board game out there!
back to menu ↑
Ticket to Ride
Ticket to Ride is a cross-country train adventure game. Up to 5 Players compete to link various  cities  by claiming railway routes on a 20th century North America map.
On each turn, players can collect various colors train cards , buy  Destination Tickets or claim routes with pre-owned train cards. The longer the route that has claimed, the more points they earn.
Each destination Tickets are worth a certain number of points that the players will get  if they complete the that railway route. The longer the routes, the more points they earn.
Since its release in 2004, when it won the Spiel des Jahres award (and many other awards), Ticket to Ride has become a real classic family board game.
Ticket to Ride is a 2 to 5 players family board game that has a playing time of 30 to 60 minutes. The game is easy to learn, you can understand the rules in less than 15 minutes and quickly start playing. Each turn you either draw more cards, claim a route, or get additional Destination Tickets.
The rules are simple enough to write on a train ticket – each turn you either draw more cards, claim a route, or get additional Destination Tickets .

Ticket to Ride designer, Alan R. Moon
Ticket to Ride is fun, strategic as well as you need to decide which routes to take, therefore required a good bit of planning. The tension comes from being forced to balance greed – drawing another card to your hand, and fear – losing a critical route to another player. Will you try to block your opponents building their routes?…
Ticket to Ride is definitely situated at the top of the best family board games list. The game has an incredible replay value game and it can an be expanded with a number of additions. You can find  the Ticket to Ride 1910 Expansion that provides new cards and new destination tickets.
Ticket To Ride will entertain kids and adults alike, it has really become a classic family board game.
back to menu ↑
Harry Potter Hogwarts Battle
Harry Potter: Hogwarts Battle is a cooperative deck building game. It is designed  for 2 – 4 players and could take  between 30 minutes and 60 minutes (sometimes more) , depending on which game you're playing.
In the game, players take on the role of a Hogwarts student: Harry, Ron, Hermione or Neville, each with their own personal deck of cards that's used to acquire Resources.
By gaining influence, players add more cards to their deck in the form of iconic characters, spells, and magical items. Other cards allow them to regain health or fight against villains, keeping them from gaining power. The villains set back players with their attacks and dark arts. Only by working together will players be able to defeat all of the villains, securing the castle from the forces of evil.
Harry Potter: Hogwarts Battle is a fantastic introduction to cooperative games and deck building for new gamers. If there are Harry Potter fans in your family, I highly recommend you give that game a try. My kids are huge Harry Potter fans, and they absolutely love that game. It is one of our best family board games at the moment.
back to menu ↑
Sheriff of Nottingham
Sheriff of Nottingham is a social game of bluffing, bribery and negotiation designed by Sergio Halaban and Andre Zatz, for 3 to 5 players, ages13 + according to the publisher but really is fine for children age 8 +. The game takes about an hour or less to play.
At the beginning of the game, each player is going to be a merchant: they will get the merchant board, the matching merchant bag, and 50 gold. One person is going to be the sheriff (each players are going to be the sheriff twice over the course of the game). The merchants put 1 to 5  cards in the merchant bag  and tell the sheriff what they have in their bag. Cards are a combination of legal goods (chicken, cheese, apples and bread) and illegal goods (pepper, mead, silk and crossbow). Illegal goods worth much more than legal goods of course.

Players are not allowed to lie about the number of cards they have in their merchant bag, but you can lie about what type they are. The rule says that you must look the sheriff in the eyes when you tell him what you have in your bag (and likely lie !). This is probably one of the funniest aspect of the game as you need to try to keep a straight face while lying.

The sheriff  must decide which merchants' bags to inspect and which to let by. If you were lying, you owe the sheriff some money as a penalty, but if you were telling the truth, he owes you! You can also try to bribe the sheriff, which can often save you some money, but once you open up the negotiation, the sheriff knows you're smuggling illegal goods. Or maybe not, you might be only bluffing?

Sheriff of Nottingham is an easy-to-learn family board game, easy-to-play game of deception that is so much  fun to play!Honestly I can only recommend you to give it a try, you won't be disappointed! Another one of my favorite family board game that need to be on my best family board games list.

back to menu ↑
Camel Up
Camel Up is another Spiel des Jahres Winner (game of the year winner)
, as the game won the award in 2014.
In Camel Up, up to 8 players bet on five racing camels, trying to guess which will place first and second in a quick race around a pyramid.
As members of Egyptian high society, you gather in the desert with one simple goal: to gain the most money by backing the right camel to win a leg or even the entire race. However, in this race, it's not just the lucky ones who can beat the odds. Reading the dynamics of the race and having a good sense of timing is just as important when it comes to backing the right camels and taking the victory. Camel Up is a simple, quick and outrageously exciting family board game that can be enjoyed by up to 8 players.
Camel Up is a great family game,. There is certainly a great deal of luck and randomness in it but this is what the game is about. Camel Up is about fun and laughter, you will have a great time with your family. Unpretentious and must be taken as is,  Camel Up is made to entertain and totally deserve to be on the list of best Family Board Games.
back to menu ↑
Jamaica
Jamaica is a game I absolutely love. It was designed by  Malcolm Braff, Bruno Cathala and Sébastien Pauchon and  release in 2007. Jamaica  is a pirate theme racing  game where  2 to 6 players compete to race around the island of Jamaica and collect as much gold as possible before reaching Port royal.Each time the pirates meet, they will have to fight to try and steal the contents of each other's holds (and maybe pawn off a chest full of cursed gold at the same time).
Jamaica is a really  beautiful game. And when I  say beautiful, I mean it. The components, cards and board, are very well made and the artwork is really splendid. The game won the 2008 Golden Geek Best Board Game Artwork/Presentation award.
Jamaica is a great family board games to play, with a fun theme and it gets even better when played with with 5 or more players. You should consider adding it to your list of Christmas family board games!
back to menu ↑
Survive
Escape From Atlantis
In Survive Escape From Atlantis, you try to lead your people from the sinking central island of Atlantis to the safety of one of four islands nearby. Your people can get there quickly by boat (if they find one) or more slowly by swimming. But it will be a perilous journey as they must avoid Sea Serpents, Whales, and Sharks. When the volcano on Atlantis explodes, the game is over. The player with the most survivor points wins.
It is really no wonder why this game has been around for so long and is still a popular family board game right now. Survive: Escape From Atlantis! is probably one of the funnest family board game around. It is a great light-strategy game for serious gamers, as well as a fun game to play with the family! The game was published over 30 year ago and over 1.3 million copies have been sold since.
This is a true classic family board game, brought back by Stronghold Games with completely upgraded components for a modern audience.
Survive: Escape From Atlantis! is a fun family board games for adults and kids alike, fast play, with great replay-ability as the game changes every time you play it, and it has a level of strategy perfect for a family board game.It ticks all the boxes to figure on my family board games list!
back to menu ↑
Dice forge
Dice forge is a new family board game design by French game designer Régis Bonnessée ,edited by Libellud and release in 2017.
Since its release this year Dice Forge has had a phenomenal success. It is a game for two to four players where each player customize his unique dice to increase his resources throughout the game.Accomplish heroic feats to gain special powers and the glory you need to win.
back to menu ↑
Hanabi
Hanabi which means fireworks in Japanese is a family cooperative  card game for 2 to 5 players. Playing time is about 25 minutes. Hanabi won the 2013 Spiel des Jahres award (German game of the Year).
In the game , players work together to launch the perfect fireworks. The twist in the game is that you need to hold your hand of five cards backwards! Other players can see your cards but you can't. The cards are numbered from 1 to 5 and have  5 different colors and shapes. Players need  to correctly play their cards in an ascending, numerical sequence and also by color. Player can give clues to each other by using their clock tokens.
Overall this  Hanabi is a very simple  but very enjoyable game, where everyone work together and laugh together. Exactly what you want when the family get together to play.
Hanabi is great family card game that features also in my list of best games for traveling. Because of its size, it is easy to take it with you whenever visiting family or friends.
back to menu ↑
King of Tokyo
King of Tokyo is a family board game for 2 to 6 players where you play as mutant monsters, rampaging robots, or even abominable aliens battling in a fun, chaotic atmosphere.
Roll the 6 dice and choose your strategy: Will you attack your enemies? Heal your wounds? Improve your Monster? Stomp your path to victory!
King of Tokyo won the 2013 Nederlandse Spellenprijs Best Family Game Award,  is also the winner of the 2012 Golden Geek Best Party Game, the 2012 Ludoteca Ideale Winner and the 2012 Golden Geek Best Family Board Game Winner.
So, does Kink of Tokyo deserve all these awards?
King of Tokyo is a bit like Yahtzee, you roll the 6 dice  to attack, heal, gain energy or victory points. You keep some and then have to roll again.There are cards that will give you special abilities, extra dice rolls or points….The first player that reach 20 points will win the game.
Players are fighting each other in King of Tokyo and it is such a fun game to play, I guaranty you that it will bring you a lot of laughter. There is a good bit of luck it it but the game but you need also to choose your strategy.
King of Tokyo is definitely of of the best family board games around at the moment. You should definitely add this one to you family board game collection.
back to menu ↑
Clank!

Clank! is essentially a deck building game from the game designer Paul Dennen and release in 2016. It is another top family board game that deserve to be on this best family board games list.
Burgle your way to adventure in Clank!, the new deck-building board game. Sneak into an angry dragon's mountain lair to steal precious artifacts. Delve deeper to find more valuable loot. Acquire cards for your deck and watch your thievish abilities grow. Be quick and be quiet. One false-step and — CLANK! Each careless sound draws the attention of the dragon, and each artifact stolen increases its rage. You can only enjoy your plunder if you make it out of the depths alive!
Clank! is a great mix of deck builder plus dungeon crawler. It is really fun to play, and if you like deck builder game like I do, then go for it!
back to menu ↑
Catan

The Settlers of Catan, sometimes shortened to Catan, is a 3-4  (you can play 5-6 with the Catan 5-6 players expansion)  player family board game designed by Klaus Teuber and first published in 1995 in Germany by Franckh-Kosmos Verlag (Kosmos) as Die Siedler von Catan. Catan  is 1995 Spiel des Jahres Winner.
Players assume the roles of settlers, each attempting to build and develop holdings while trading and acquiring resources. Players are awarded points as their settlements grow; the first to reach a set number of points, typically 10, is the winner.
The game and its many expansions are also published by Mayfair Games, Filosofia, Capcom, 999 Games, Κάισσα, and Devir.
The Settlers of Catan was one of the first German-style board games to achieve popularity outside of Europe. As of 2015, more than 22 million copies in 30 languages had been sold.The game involves large amounts of strategy, while still being fairly simple to learn.
Definitely one of those best classic family board games that you must try! I couldn't have done my family board game list without The Settlers of Catan !
back to menu ↑
Carcassonne
Yet another Spiel des Jahres Winner on this list. Carcassonne won the Award in 2001.
Carcassonne is a great tile placement board game where players must develop the area around Carcassonne by placing, in turn, a tile that represents a piece of landscape composed of various elements: pieces of cities, meadows, roads, and cloisters . The game board is thus built up little by little as the game progress.
In addition to that, the players can decide to place one of their meeples on an area that is completed: on the city meeples become knights, on the road meeples become robbers, on a cloister monks, and on the grass they become farmers.
When that area is complete, that meeple scores points for its owner. Players have only limited amount of meeples or followers, so you need to be careful when you decide to put one down.
Carcassonne is a an easy game to learn, its simplicity makes it a good choice as a family game or as a game to introduce to non gamers as a gateway board game. The game has a high replay-ability, your cities will always be different.
Carcassonne is another classic family board game that you should really try. There are also a lot of Carcassonne expansions available, and each one of them had some extra flavor to the game. Without a doubt, Carcassonne has to figure on my list of best family board games.
Conclusion: The Ultimate Family Board Games List
I hope you enjoyed my list of best family board games . Any of those games on the list will bring you  a lot of fun  and will entertain kids, teenagers and adults alike for hours, for one simple reason: they are just some of the best family board games ever out there. Simple as that. Now, I know this is my ultimate family board games list, and a list made by someone is something quite subjective, so you probably have other games that you feel could or should be on this list of best family board games.
Don't hesitate to give some feedback in the comments below, tell me what family board game YOU are playing at the moment and what are your top family games for Christmas ? What do you think are fun family board games to play at home?
And don't forget to have a look at the others selection of board games I have for you, like the best board games for 2 players, or the board games like RISK.