Best Risk Version Board Game: What RISK version to choose?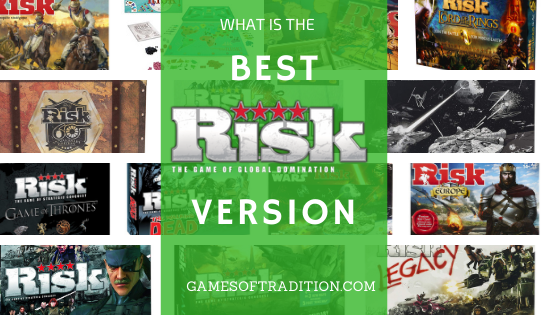 The game of Risk is undoubtedly one of the most popular map based strategy board game of all time. RISK has been gateway into wargames for many players a . Like many RISK fans, you are probably tempted to find another board game like RISK. But instead, why not go for one of the many different RISK version that has been released? But what is the best RISK version ? What RISK version to choose?
RISK was originally created by Albert Lamorisse, then the concept was edited and put into circulation by Parker, one of Hasbro group companies. Over the years, there were many versions of Risk released on the shelves so that it can be easy to get lost when you want to buy RISK board game.
In this article, I will try to review the different options that you have, so that you can identify the best RISK version for you. I don't thing that there is an definite answer to the question "What is the best RISK version"? I will depends largely to each individual's desire and sensitivity.
I will start with the "Classic version" of RISK first and then carry on talking about the more "Thematic versions of RISK". Please note this is not a ranking of the best version of RISK, this is just an exercise that should help you choose the right version of RISK for you.
See also my other selection of board games :
Best RISK version: Classic RISK board game
In 1957 Albert Lamorisse  released the first version of the game under the name "La Conquête du monde" (the conquest of the World).Two years later, in 1959, Parker Brothers published the game we all came to know and love as RISK. Risk has become one of those classic board games that so many players around the world have such great memory of. RISK was absolutely unique at that time because it introduced groundbreaking game concepts. It was the first board game to offer non-linear movement . Although the rules were simple enough, the strategies required to win the game were not. RISK pushed the envelope and remained unmatched by any other game on the shelf; quickly becoming a phenomenon with millions of copies sold throughout the world
If what you are looking for is a version of RISK that will give you the same kind of feeling you had when you played the original version of RISK, then I would advice to choose one of the classic RISK edition of the game that were released over the years.
RISK 60th Anniversary Edition
This is the 60th anniversary edition of RISK was released in 2019. And it will certainly please all the RISK fans  They will find the board game guide that reveals the rich history of the Risk strategy board game. This RISK 60th anniversary edition also includes high quality packaging and game pieces although the figures are plastic as opposed to metal like in the RISK 40th anniversary edition. The artwork though is beautiful and really stand out.
This version of RISK board game is a 2 to 6 players version and it can be played in 5 different ways, including the classic game plus the original 1957 La Conquete du Monde rules.
This RISK edition includes the gameboard, 6 plastic armies with 40 infantry, 12 cavalry, and 8 artillery each, 57 Risk cards, card box, 6 dice, 6 war crates, and game guide. One of the best RISK version out there.
For this RISK 6oth edition, Hasbro has chosen to go back to basics with a very classic, almost vintage design that will appeal to those looking for a traditional version.
What I like in this edition of RISK
The board is absolutely beautiful, with a neat and clean design and so are the cards.
Nice to be able to play with 2 players….and up to 6!
The box is lovely as well with its metal corners and leather like straps
What I like less in 60th edition of the game RISK
I would have loved the armies to be metal instead of plastic
I would have also like to cards to be a bit ticker
| Players | Playing time | Recommended for |
| --- | --- | --- |
| 2-6 | 90-150 min | 10+ |
For 2-5 players
Takes up to 4 hours to play
Strategic board game
Tons of replay value
Sci-fi theme
Last update was in: March 30, 2023 11:31 am
back to menu ↑
RISK 2016 Version
This version of  Risk published in 2016 has a refreshed look that includes updated figures, compelling board art, and improved Mission cards. This version of RISK support 2 to 5 players and takes about two hours to play.
In the game RISK, players mobilize their color coded army and combat and conquer each other's territory. The combat phases consist on rolling dice. The attacking player has 3 dice to roll whereas the defender has 2. The more territories a player controls,  the more army reinforcement units  he can get on is next turn. During the game, you also collect cards that will help you to get additional units. As the game goes on, players that loses their army and all their territories are eliminated until their is only one player left….the winner!
What I like in this edition of RISK
This 2016 version of RISK really captures the popular element of the game prior to the release of the revised edition.
The rules of this edition are perfectly understandable and easy to follow , even for the youngest players.
The design of the board is irreproachable
Initially there was no mission cards, but now mission cards are included
This is the version RISK is that is most similar to the old Risk version  which is unfortunately no longer available
What I like less in this edition of RISK
The cards quality could be better
| Players | Playing time | Recommended for |
| --- | --- | --- |
| 2-5 | 90-150 min | 10+ |
back to menu ↑
Risk Rustic Edition (2017)
 Get Ready to Conquer the world with this beautiful rustic collector's edition of RISK released in 2017 by Hasbro. This is for 2 to 5 players ages 10 and up. This edition of RISK comes in a nice wooden box, 6 wooden armies, a deck of 57 cards, the secret mission cards, 6 dice and the manual. The game board of territories is also made of well crafted wood and featured war worn colors that appears to have stood the test of time.
It is the first time since the 1980's that the armies are once gain made of wooden pieces. The playing cards also match the game rustic look. Instead of the bright colors of the past editions, the playing cards have some nice shades of brown with simple graphics that goes perfectly well with this Rustic looking RISK game. The game looks absolutely beautiful and inviting. It plays like all the past version of RISK: in addition to classic RISK, the game offers a 2 players version, a shorter version known as capital RISK and of course the secret mission RISK.
This beautifully crafted edition of rustic  RISK is build to last and won't fall apart during the many battle fought with your friends of with your family. It is a must have for any RISK enthusiast!  Definitely need to figure on this list of best RISK version.
What I like in this Rustic edition of RISK
The Rustic looking box and the board and absolutely beautiful
Nice to be able to play with 2 players….and up to 6!
The armies are wooden.
What I like less in this Rustic edition of the game RISK
Can be a bit  hard to put everything back in the box.
| Players | Playing time | Recommended for |
| --- | --- | --- |
| 2-6 | 90-150 min | 10+ |
back to menu ↑
 Risk revised version (2008)
This version of  the RISK game is the revised version of 2008. It is also know as the revised Black Ops version designed by Rob Daviau. The map has been revamped with a new design,  new playing pieces shaped like arrow, cities and capitals  and some objectives (6 major and 6 minor) has been added. But the most important change remains the conditions of victory. To win in this version of the RISK game, you must complete three goals while controlling your capital. In practice, it will take about 90 minutes for a game.
They are three ways to play  this version of RISK with three different rule sets:
Basic Training: The  simple way without rewards, can be played with kids, great for shorter game. It's an introduction to the new  RISK rules.It takes around 90 minutes so perfect for kids with short attention spam.
Command Room: This is a more complex way with rewards, bonus cards that you can get and a couple of other slightly more complex rules to make for a longer game.
Both Basic Training and Command Room end when a player controls three objectives or missions. The objectives are major or minor objectives. They can be  to "conquer 4 cities in one turn", or  to "complete one continent in one turn", "Take over 10 territories in one turn" etc… Successful completion grants some bonus (extra attack die, extra defense die, air bases, etc.), and definitely adds some strategy to the game.
Finally the classic way of playing game, where you play until all players are eliminated and there is only one player left on the board.
I can't say that this version of RISK is your typical classic RISK version as some changes has been introduced like for instance the cards reinforcements. In this RISK Revised the icon system where players had have a set of 3 identical icons or 3 unique icons of cards in order to get reinforcement is gone. Instead, it is replaced with stars, with each card offering 1 or 2 stars. Now card sets can be cashed in based on the total number of stars and the troops earned is the same each time based on the number of stars.
For all the RISK's fans, this edition is perfect and offers you a very nice board design. You will be please to discover the new victory conditions that will help you add a little challenge to your game.
What I like in this 2008 Edition of RISK
I like the game board with more pastel colors and the a background of lines coming from a central point.
The game is faster, more fluid.I like the fact that the game length are shorter in this revised version of RISK. A game should take between 60 and 90 minutes.
I like the introduction of Cities and Capitals that add a new strategic element to the game.
The new victory conditions add an additional challenge
What I like less in this Revised edition of the game RISK
With the various new additions to the game, we lose some of the original concept of Risk
I would have preferred proper infantry cavalry and cannons miniatures as opposed to  arrow shapes figures.
I find the rules of the Revised edition can be difficult to understand if you don't know the RISK  universe already. But saying that, a lot of people know the universe of RISK already!
| Players | Playing time | Recommended for |
| --- | --- | --- |
| 2-5 | 60-90 min | 14+ |
back to menu ↑
RISK Europe
What about embarking in some epic medieval battles? This is exactly what this version of the game Risk Europe offers you.
I really want to finish my list of best strategy board games with, in my opinion, one of the best RISK game version released so far.
RISK Europe was released in 2016 by Hasbro and I feel this strategy board game deserve to be brought under the spotlight as it is a pure gem.
Unlike Risk Classic, Risk Europe has each player choose a starting capital for their Kingdom which will give them unique strengths and abilities.  There are Castles to build and the rounds are organized with Kong's order cards which give the possibility to carry out actions among four different ones.
To win the game you have to be the first player to control 7 crowns at the end of a round. The crowns can be bought or conquered.
What I like in RISK Europe
 The map is absolutely beautiful
 The 4 armies (French, Germanic, Byzantine and Scandinavian) have their own figures
 The arrival of siege weapons, archers and knights  along with the traditional f

ootmen and cavalry.

The 8 capital cities and their bonuses (Paris, London, Madrid, Berlin, Kiev, Constantinople, Stockholm and Rome)
The starting placement, the action order cards and the mechanics of a round in itself
 Taxes and expenses that allow you to buy units, crowns but also STRONG CASTLES.
What I like less in RISK Europe
Rules can be difficult to understand if you are not familiar with the world of Risk
With the complexity of this edition, we move a little away from the very concept of Risk
In short. this game is exceptional and is pretty cheap to buy too. RISK Europe is perfect for anyone looking for a slightly less simplistic version than the classic  RISK edition. And for`the  fans of the Napoleonic era, Risk Europe is a real gem.
| Players | Playing time | Recommended for |
| --- | --- | --- |
| 2-5 | 60-90 min | 14+ |
Best RISK version: RISK thematic editions
RISK is a hugely popular game and different thematic  versions have emerged over the years. Many take over the world of video games (Risk: Assassin's Creed, Risk: The Elder Scrolls, RISK Halo, RISK:Battlefield Rogue, RISK:Metal Gear Solid…) , movies (RISK Star Wars, Risk: the Lord of the Rings, Risk: Captain America Civil War)   or TV series (RISK Game of Thrones, RISK Doctor Who).
These special editions are an excellent opportunity for people looking to find a variation of their favorite strategy game while immersing themselves in the atmosphere of a world they are passionate about. The huge number of Star Wars  fans or Game of Thrones universes will be delighted to find a game that will perfectly complement their collection of objects.
Also I have to mention what many consider like the best version of RISK ever made: Risk Legacy. Risk Legacy is different to all the different versions of Risk because it is a campaign game. It starts a bit like the classic Risk but each time you play afterward it adds a rule based on what happened during the game.
In summary, it is difficult to designate the best risk version of all. It largely  depends a lot on everyone's tastes and affinities.
back to menu ↑
RISK Legacy
 Risk Legacy is a 3 to 5 player campaign game released in 2011. You might wonder what is a campaign game or a legacy game?
What is a legacy board game?
Legacy games are board games whose rules and components change over time based on the outcome of each game played and the choices made by the player(s). They will oftentimes make physical changes to the board game by, for example: marking the cards, placing stickers, destroying components, opening sealed packages, and so on.
The changes made in a Legacy game are designed to be permanent. A Legacy game's full experience is played out in a campaign that can only be played once. To replay the full experience again, the player(s) would need to purchase another copy of the game or, if available, a "recharge pack".
Official and unofficial methods to circumvent Legacy mechanics are common in popular Legacy games.
(source: Boardgamegeek.com)
As the other versions of Risk, Risk Legacy is about world domination. Players take their armies and march them across the different continents to try to take over the world. But there is a lot of differences between a classic version of Risk and Risk Legacy. The biggest  one being that every decision you make, affect the rest of the game. Every game you play will change every future game.  So a decision you make in Game 1 could come back to haunt you in Game 10.
There are stickers that you  place on the board , those are permanent and can never be removed. Some of the cards will be destroyed during the game. You will find several sealed compartment. Those compartments don't get opened until certain criteria are met in the game. You have no idea what is inside those compartments. Even the rule book won't tell you. Sometimes you will find stickers inside those compartments that you need to place inside the rule book. So they effectively change the rules!
The risks you take in Risk Legacy are not like those in any other board game. You and the other players will shape how your world evolves: its history, its cities, even its factions and how they fight.  You don't forget past betrayals- and neither does the game. Unlock new rules and watch events unfold as you play more games. No two games will ever be the same. This Risk Legacy version might well be the best RISK version ever done…..
What I like in RISK Legacy
Huge replay value as the rules are contently changing and so is the game itself. The 15 games build your unique version of the game.  It can be played as many times as you like after that.
Your choices and actions made in one game carry over into the next
This game is so fun to play

The game is full of surprises, nobody really knows what 's next.
What I like less in RISK Legacy
Risk Legacy is probably more difficult for casual gamer
Can be daunting when you have to physically destroy one of your card
| Players | Playing time | Recommended for |
| --- | --- | --- |
| 3-5 | 60 min | 14+ |
back to menu ↑
RISK 2210 A.D.
Risk 2210 A.D. was released in 2001 and published by Avalon Hill.  Over the years there was a number of Risk version but this one is one of my favorite and deserve to figure on this list of best Risk version. Set in the not-so-distant future, battles are now fought by machines of destruction, known as MODs, for short. Human commanders still lead these mechanized troops, but these commanders, sort of special units, have special powers and abilities that you can find on the specialized Command cards. Those abilities can be stealth, rocket strike, Armageddon for instance. Those Commands cards really add a new dimension to the game and totally change the strategy. New territories were introduce in Risk 2210 A.D. with the underwater colonies and the moon and its own territories.
In RISK 2210 A.D., in addition to getting armies at the start of each turn, you also get energy, a sort of currency in the game that can be used to buy commander 's cards, hire new commanders, buy space stations and bid for turn order which can be very important because RISK 2210 is limited to just 5 rounds for every players ("five year war").
Another change is the addition the ability for the Commander  to roll an 8-sided die on defense at all times and to also roll an 8-sided die on offense in certain situations.
The new countries on the map, nuclear pieces,commander units, energy and commander cards add a much more diverse and strategic edge to the game-play and really make this game special. There is much more strategy and planning involved in this new version, but it should still appeal to the classic Risk fans. If you're a RISK fan already, this is the game to try next.
What I like in RISK 2210 A.D.
Introduction of new territories
The Commanders and their special abilities
Introduction of energy and commander cards give new strategy edge to the game
The Mech units and the commanders look great
The game is fun and well balanced.
What I like less in RISK 2210 A.D.
Rules can be a bit complex to understand if you are not familiar with the world of Risk
| Players | Playing time | Recommended for |
| --- | --- | --- |
| 2-5 | 180 min | 10+ |
back to menu ↑
RISK Star Wars: the black series
The Star Wars franchise
 created by George Lucas has became a worldwide pop-culture phenomenon.The huge number of Star Wars fans will be delighted to know that they can  continue the adventure thanks to the Risk Star Wars edition. This edition of Risk Star Wars is based on episode 6, The Return of the Jedi.
RISK Star Wars is a 2 player game , or alternatively, you can play with two team of two players.Players  can test their skills by commanding Stormtroopers and other Star Wars characters in a strategic and skilled fight. Players can re-create the final moments of Star Wars: Return of the Jedi as they prepare a plan, arm for battle, and advance their troops in this cataclysmic fight for the future of the galaxy! Play as the Empire and destroy the Rebel fleet, or play as the Rebel Alliance and destroy the Death Star.
There are 3  main battles going on simultaneously during the game: Luke Skywalker against Darth Vaderthe,the  attack on the Death Star, and the rebels trying to destroy the shield generator on the Moon of Endor. The Rebel player's mission is to destroy the Death Star, but first they must destroy the shield generator protecting it on Endor. The Rebel player should be careful that the Emperor and Darth Vader don't defeat Luke, though, as that will tilt the game to the dark side.
The Empire player's mission is to defeat all Rebel ships before they destroy the Death Star. The Empire player must stop the Rebels from destroying the shield generator and make sure that Luke doesn't win his duel with Darth Vader or worse, redeem him and strengthen the Rebels' assault.
The game includes 3 gameboard pieces, 20 X-Wings, 16 Y-Wings, 15 B-Wings, 56 TIE Fighters, 6 Rebel fleet markers, Millennium Falcon ship with stand, Executor with stand, Death Star with stand, 4 hit tokens, 9 Stormtrooper figures, Rebel Strike Team token, 30 Empire order cards, 30 Rebel order cards, 5 translucent dice, and game guide.
The game is great, and really one of the best RISK version out there, and not only for Star Wars fans. It's light, fun,  fast as it takes just about 45 minutes to play. All the little models looks amazing
You probably wonder what is the difference between this black deluxe edition and the cheaper $25 to $30 edition? the answer is simple: the game is effectively the same but all the components are way better quality: the Black edition has miniatures for the Death Star, Millenium Falcon, and Executor, as well as having much nicer cards to play with and translucent dice. The box  and the board are also designed better. Well worth it. Risk Star Wars makes a great family game and has to be one of the best RISK version released so far.
What I like in RISK Star Wars.
The overall quality of the components, boards are excellent
All miniatures components, TIE fighters, X-Wings looks great
Star Wars theme is strong and I like that.
Game is fun and fast
What I like less in RISK Star Wars
| Players | Playing time | Recommended for |
| --- | --- | --- |
| 2-4 | 30-45 min | 10+ |
back to menu ↑
RISK Game Of Thrones
 Since its release, the series Game of Thrones has had an enormous success around the world. Fans were eagerly awaiting each new episode and are always hungry for merchandise inspired by their favorite series. In order to satisfy game lovers, USAopoly  has published in 2015 a Game Of Thrones edition of RISK for the fans of the books and the cult series.
Risk Game Of Thrones is a 2 to 7 players RISK game that includes 2 different maps: the Essos map for a 2 player games or the map of Westeros for 3-5 player games. The good thing is that you can even combine those two maps and create a huge map and play with 6 or 7 players (the world at war mode). There is components for 7 players with unique sculpts for each House armies and individual plastic containers to hold the units.
This is RISK, were players are moving from country to country to take over the world. But this is RISK at another level!
You can play the skirmish rules that take the game-play of the traditional RISK. The winner is determined by which player controls the most territories, castles and ports when the end game card is revealed.
But the most interesting rules for me are the Dominion rules that really bring the Game Of Thrones elements into play. New elements are brought into the games like gold that can be used as a resource. You get gold for how many ports you have and how many troops you have. You can use that gold to buy Maester cards that grant tactical advantages during deployment and battles. You can also use Gold to activate your character card that provide you with special abilities in battle. Finally, you can use Gold to buy objective cards that create goals and strategies for earning Victory Points. Objectives are worth from 1 to 4 Victory Points, based on the difficulty to achieve them.The end goal is to get 10 Victories Points.
I love the addition of ports and castle in the game.Ports can be devastating and become a huge strategic advantage in the game. Ports of matching colors can invade one another as if they were adjacent, meaning players separated geographically can still fight if they are connected by the sea.Castles give you bonuses on your troops.
So there really is a new level of strategy in RISK Game Of Thrones and I can't emphasis that enough. I really thing this version of RISK will please the Game Of Thrones fans but also the players that are unfamiliar with the series . This has to be one of the best RISK version.
What I like in RISK Game Of Thrones
The universe of the series is respected as well as the main families
Beautiful maps
Well balance game
Domination rules add an extra layer of strategy that the regular Conquest game mode doesn't offer.
 This Game of Thrones edition gives a boost to the Risk universe
The two boards together allow a mighty 7 player game!
What I like less in RISK Game Of Thrones
Again, the cards quality could be better, I would recommend to sleeve them.
I would have likes even more armies available
| Players | Playing time | Recommended for |
| --- | --- | --- |
| 2-7 | 120-240 min | 10+ |
back to menu ↑
 RISK Lord of the Rings
Step into the world of the Lord of the Rings with this special edition of Risk! In this special edition of
RISK Lord of the Rings
, you will decide the fate of people of Middle Earth. Choose whether to command a Good or an Evil force, and battle against rival armies in a bid to decide the fate of Middle-earth. Play on a detailed game board, battle with specially-sculpted characters including Orcs, Dark Riders, Eagles and Cave Trolls, and push for victory before the One Ring leaves Middle-earth forever.
If you want to play the classic RISK you can use the RISK Lord of the Rings board and play the standard edition.
There is several differences between the classic RISK on this RISK Lord of the Rings edition:
– You will find new characters i the game, the Eleven Archers, Orcs, the Riders of Rohan, the Dark Riders and so on.
– You can either play Good or Evil for the battle of control.
– There are leader pieces and stronghold spaces, which both give you bonuses during combat phases.
– Missions have been replaced by adventures which when completed, give you bonuses.
– The game end is determined by the movement of the fellowship piece.
Note also that with this edition of RISK, certain feature on the map are impassable,like the  mountains and rivers that can only be crossed at a bridge.
Risk lord of the rings vs trilogy edition
Note that the original  edition of RISK Lord of the Rings released in 2002  is based of the 2 parts of the Lord of the Rings Trilogy. It does not include Gondor and Mordor as well as Harad and the south. You will need to get the
RISK Lord of the Rings Trilogy Edition
. The trilogy edition also includes the One Ring as opposed to the cardboard version in the original version.
The version that I link below is a newer version that  has the full map with Mordor (expansion map).
The components of the games look great. The armies pieces are very well made. They are very sturdy and nicely detailed plastic.
I think that Risk Lord Of the Rings  is fun to play, pretty lightweight compared to some other RISK thematic games. Would be an ideal version for  casual or non-gamers.
What I like in RISK Lord of the Rings
This edition is a perfect blend between the world of Risk and  the World of the Lord of the Rings
Nice designed game, beautiful map
What I like less in RISK Lord of the Rings
Altough the Map is beautiful, it can be hard to read
| Players | Playing time | Recommended for |
| --- | --- | --- |
| 2-4 | 120 min | 9+ |
back to menu ↑
Risk Godstorm
 In Risk Godstorm the players are priests looking to lead their race (Greek, Celtic, Babylonian, Norse, and Egyptian) to dominate the ancient world and the Underworld as well. To do this they will need to marshall their forces, dominate continents, acquire relics of power and call their Gods to earth.
Risk Godstorm uses the basic combat elements of classic Risk but alters many other elements. The game is played on an ancient map of the world that focuses on Europe and Northern Africa. Atlantis is also present and highly desirable however a chaotic event can see the fabled city sink into oblivion, taking all the forces present there with it.
At its core the players are trying to control territories and controlling entire continents earns the players bonus units to deploy and further their cause.
One of the key differences to classic Risk is that the Underworld can be invaded and defeated units can also be sent to the Underworld to fight again, with some proving themselves worthy enough to return to the Earth.
| Players | Playing time | Recommended for |
| --- | --- | --- |
| 2-5 | 120 min | 10+ |